---
Gallery Showroom Representation

On-going- 2019


Boulder, Colorado



Mary Williams Fine Arts Gallery
5311 Western Ave #112, Boulder, CO 80301
http://www.marywilliamsfinearts.com
***Please check the gallery's hours on their website, or call 303-938-1588
---

Boulder Plein Air Festival
3rd Place Award!
For my painting
Around the Riverbend 
Festival Dates: April 28 – May 5, 2019
https://www.boulderpleinairfest.com/
For more information, contact mary@openstudios.org or call 303-444-1862
---

2019 State Watercolor Exhibition
May 3 to June 27, 2019
The Pace Center, 20000 Pikes Peak Ave., Parker, CO
https://www.coloradowatercolorsociety.org/state-watercolor-exhibition
My watercolor painting Winter Whites has been juried into this terrific show!
---
PAAC's 23rd Annual National Show
Studio 8369 in Grand Lake, Colorado
Honorable Mention Award for my painting An Individual!
Studio 8369
1117 Grand Avenue
Grand Lake, CO 80447
June 1 – 28, 2019
See the website for Online Catalog and show details
https://www.pleinairartistscolorado.com/
---

The
2019 Telluride Plein Air

event will be held June 30-July 6, 2019
I'm excited to have been selected for my 3rd year to paint in beautiful Telluride, CO!
Quickdraw- July 2nd, 5-6:30pm on Main Street
Exhibition & Art Sales July 4, 5 & 6th
https://www.telluridepleinair.com/about/
---
Estes Valley Plein Air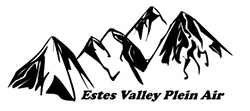 Saturday, August 24
Estes Valley Plein Air Quick Draw & Auction
8:30 – 12:00 p.m.  Riverside Plaza, downtown Estes Park.  Registration begins at 8:00 a.m.
Saturday, August 24
Estes Valley Plein Air Gala Opening Day
Gala Reception, 5 – 8 p.m.  Awards at 6:30 p.m.  All artwork is for sale.
August 24 – September 27
Estes Valley Plein Air Sale and Exhibition
Art Center 10 a.m. – 5 p.m.  daily.  All artwork is for sale.
---
2019 Rocky Mountain National Watermedia Exhibition
Her Belongings is the watercolor painting that I am honored to show at the exhibit!
September 13, 4:00 – 8:00 pm        Opening reception and award ceremony
September 13 – October 26           Exhibition dates
July 27, 2:00 pm                              Juror Demonstration with Sterling Edwards
July 28 – August 1                          Master Workshop with Sterling Edwards
---